Welcome to Pelicano Equine Training!
NEW TRAINING OPPORTUNITY!!
I am currently offering handgun instruction to Maryland residents who need to get their Handgun Qualification License (4 hour class required to purchase or rent a handgun). I also do the 8 and 16 hour classes for carry permits.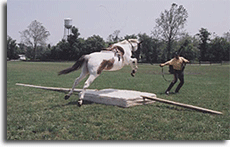 Traveling across the country teaching others the "comfort zone" method, Pelicano Equine Training owner Rick Pelicano actively extends his expertise and skills to other horse enthusiasts.
With almost 30 years of time-tested skill and authority in exceptional equine and rider training, Rick Pelicano began his distinguished career in 1982 when he landed a mounted patrol position with the Maryland National Capital Park Police.
Since then, he obtained certification through the American Riding Instructor Certification Program (ARICP), earning the ARICP Instructor of the Year award in 1995. A Level III Mounted Patrol Training Officer, Rick performed mounted security detail at the 1996 Olympics held in Atlanta, Georgia. In addition, he attended a mounted police training course with the prestigious Royal Canadian Mounted Police.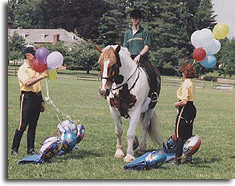 One of his proudest accomplishments yet — authoring a training book entitled Bomb-proofing Your Horse from Tralfagar Press in 2004 is now available for purchase. This step-by-step guide illustrates successful methods used to de-sensitize horses and is modeled after the "comfort zone" clinics Rick conducts. The book is considered a must-have manual for the everyday civilian rider irregardless of discipline.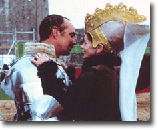 In Fall 2002, Rick participated in Tournament, a reality documentary produced by Wall to Wall TV Ltd. for the Discovery Channel. The 2-hour televised adventure, airing March 2003, put Rick and three other knights-in-training to the test, staging real-life jousting battles of the Middle Ages. The all-to-period jousting contest mirrored knight training and tournaments conducted some 350 years ago in Europe. Rick is one of only 20 participants of full-contact jousting, mastering yet another accomplishment in his outstanding career thus far.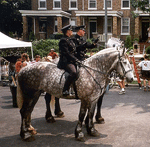 The next time you view Tom Cruise's futuristic film Minority Report, you just might catch a glimpse of Rick Pelicano. In the film's first fifteen minutes, Rick is captured on duty for a brief stint. Look fast as he made his movie appearance on the set during the filming staged in Washington, D.C.